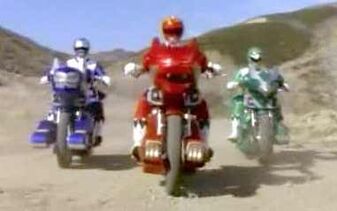 The Astro Cycles are a Power Rangers-exclusive vehicle for Lost Galaxy, created primarily for the Red, Blue and Green Rangers. All three cycles are mounted with blasters on the front, and are covered in armor designed after the Rangers' respective Galactazord. They appear to go no faster or slower than the average motorcycle (or dirtbike).
The Astro Cycles are only for the male Power Rangers. None of the girls have one.
The Red Ranger's Astro Cycle also becomes the Red Capsular Cycle , which debuts in the episode " Mean Wheels Mantis ".
The Magna Defender has an Astro Cycle in the season's toyline.
Ad blocker interference detected!
Wikia is a free-to-use site that makes money from advertising. We have a modified experience for viewers using ad blockers

Wikia is not accessible if you've made further modifications. Remove the custom ad blocker rule(s) and the page will load as expected.