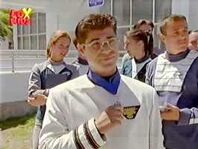 Damon competed against a cadet named Baxter for the position of head mechanic on Terra Venture.
Baxter steals Damon's device, which he created to compete for the head mechanic position and uses it to try to stop the monster. Because the device wasn't finished, Damon and the other Rangers must rescue Baxter.
Ad blocker interference detected!
Wikia is a free-to-use site that makes money from advertising. We have a modified experience for viewers using ad blockers

Wikia is not accessible if you've made further modifications. Remove the custom ad blocker rule(s) and the page will load as expected.