Cerina Vincent (b. February 7, 1979) is an American actress. She is being known for the role of
Maya
, the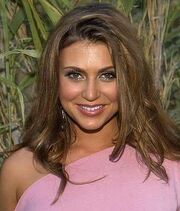 Yellow Galaxy Ranger, in
Power Rangers: Lost Galaxy
.
Vincent began acting debuting in PRLG, after it, she became a cast member favorite- aside to [1] Archie Kao , who played Kai Chen [2]/Blue Galaxy Ranger. Vincent is of course friends with Reggie Rolle [3] and Amy Miller [4], and she appeared at the 2009 Anime Expo and the 2010 PowerMorphicon convention. She has appeared in 18 films, Truth's Rida Zit commercial, made over 13 TV appearences (INCLUDING her Power Ranger role in Lost Galaxy[5]) and the series' 2 direct-to-video releases.
Vincent is also a nudist.
Fear Runs Silent (V) (1999) played June
Power Rangers in 3D: Triple Force (V) (2000) played Maya/Yellow Galaxy Ranger
Not Another Teen Movie (2001) played Areola
Cabin Fever (2002) played Marcy
Final Sale (2004) played Cerina
Murder-Set-Pieces (2004) played Beautiful Girl
Intermedio (2005) played Gen
Conversations with Other Women (2005) played Sarah the Dancer
It Waits (2005) played Danielle 'Danny' St. Claire
Seven Mummies (2006) played Lacy
The Surfer King (2006) played Tiffany
Sasquatch Mountain (2006) played Erin Price
Pennies (2006) played Kimberley
Dynamic:01: The Best of DavidLynch.com (V) (2007) played Girl 2
Everybody Wants to Be Italian (2007) played Marisa Costa
Return to House on Haunted Hill (V) (2007) played Michelle
Just Add Water (2008) played The Mrs
Fasion Victim (2008) played TV Reporter
Toxic (2008) played Malvi
Chasing Happiness (2009) played Andrea
Complacent (2010) played Myah
Television
Edit
Power Rangers Lost Galaxy (All 45 Episodes) (1999) played Maya/Yellow Galaxy Ranger
MTV's "Undressed" (3 Episodes)
S02E14 played Kitty
S02E15 played Kitty
S02E16 played Kitty
Power Rangers Lightspeed Rescue (2 Episodes) (2000) played Maya/Yellow Galaxy Ranger
S08E29: Trakeena's Revenge: Part 1
S08E30: Trakeena's Revenge: Part 2
S04E26: Blast from the Past (2001) played Nicole
Malcolm in The Middle (1 Episode)
S02E21: Malcolm vs. Reese (2001) played Carly
S01E07: Gastric Distress (2001) played Sorority Girl Cindy
S04E04: Miss Conception (2001) played Denise Jensen
S05E19: Another One Bites The Dust (2002) played Penny
Son of a Beach (2 Episodes)
S01E02: Silence of the Clams (2000) played Sorority Girl
S03E05: Witness for the Prostitution (2002) played Mandy
CSI: Crime Scene Investigation (1 Episode)
S05E19: 4x4 (2005) played Gwen
Palmetto Pointe (1 Episode)
S01E02: Hello, Goodbye (2005) played Girl at Party
S02E06: The Girl in Suite 2103 (2006) played Denise
Manchild (TV Movie) (2007) played Nina
Wifey (TV Movie) (2007) played Goldie
Two and a Half Men (1 Episode)
S03E12: A Little Clammy and None Too Fresh (2008) played Lulu
Gary Unmarried (1 Episode)
S01E12: Gary Dates Louise's Teacher (2009) played Miss St. James
Ad blocker interference detected!
Wikia is a free-to-use site that makes money from advertising. We have a modified experience for viewers using ad blockers

Wikia is not accessible if you've made further modifications. Remove the custom ad blocker rule(s) and the page will load as expected.