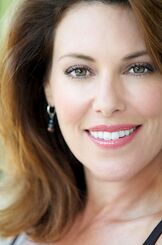 Darla Haun (b. November 10, 1964) is an American actress, and voice actress.
Basic Info
Edit
Date Of Birth: November 10, 1964 (Age 46)
Country Of Birth: USA
Birth Place: Los Angeles, California
Birth Name: Darla Lynn Slavens
Career Background
Edit
Official spokesperson for Flavor Wave (thane.ca) halogen ovens in 2008.
Worked with "The Groundlings" in Los Angeles.
Trained with Larry Moss, Margie Haber, Caryn West,David Beaird and David Lehman.
Graduated cum laude from CSU with a Bachelor of Arts.
Sister-in-law of Shardon Elizabeth Haun.
Haun was also a Model.
External Links
Edit
Ad blocker interference detected!
Wikia is a free-to-use site that makes money from advertising. We have a modified experience for viewers using ad blockers

Wikia is not accessible if you've made further modifications. Remove the custom ad blocker rule(s) and the page will load as expected.