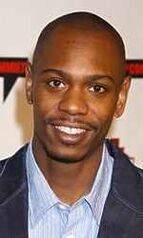 David Khari Webber "Dave" Chappelle[4] (pronounced /ʃəˈpɛl/; born August 24, 1973)[1] is an American comedian, screenwriter, television/film producer, actor, artist, and skateboarder. Chappelle began his film career in the film Robin Hood: Men in Tights in 1993 and continued to star in minor roles in the films The Nutty Professor, Con Air, and Blue Streak. His first lead role in a film was in Half Baked in 1998. In 2003, he became widely known for his popular sketch comedy television series, Chappelle's Show, which ran until 2006. Comedy Central ranked him forty-third in its list of the 100 greatest stand-up comedians.
Chappelle, although, he quit working in California as an actor/comedian, is signed up to appear in three films directed by Anthony Marsh, Jr , Gothland , Big Day , and Crazytown . He also voiced Nightmare , a guest starring video game character from the Soulcalibur games, in Power Rangers LG: The Rise of Trakeena in the segment " Three Criminals Too Many ". Following that film, Chappelle is signed on as a cast regular in Marsh's Power Rangers LG film series .
Ad blocker interference detected!
Wikia is a free-to-use site that makes money from advertising. We have a modified experience for viewers using ad blockers

Wikia is not accessible if you've made further modifications. Remove the custom ad blocker rule(s) and the page will load as expected.