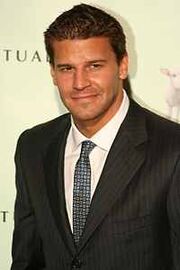 David Boreanaz (pronounced /bɔːriˈænəz/, Italian: [boɾeˈaːnad͡z]; born May 16, 1969) is an American actor, television producer, and director, known for his role as Angel on the supernatural drama series Buffy the Vampire Slayer and Angel, and as Special Agent Seeley Booth on the television crime drama Bones.
Boreanaz has been cast to play in Power Rangers LG: Galactic Underground as Neo-Screecher , a Power Rangers-Transformers crossover villain.
Ad blocker interference detected!
Wikia is a free-to-use site that makes money from advertising. We have a modified experience for viewers using ad blockers

Wikia is not accessible if you've made further modifications. Remove the custom ad blocker rule(s) and the page will load as expected.