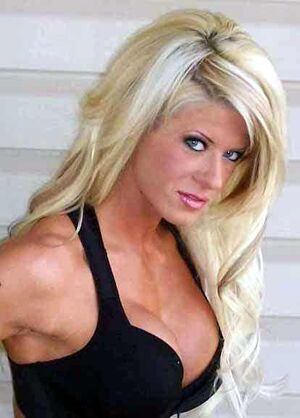 Delvara is PunishPInk, the leader of the Punishment Sisters . Delvara was the one of the Sisters who cut Gwen McQueen 's hair in "Governor Goes Down".
Her teammates are Summer , Flo , Lora and Christi (PunishBlue, PunishOrange, PunishViolet, and PunishGreen).
Delvara, compared to Summer and Christi, is mostly the aggressive, but sensitive, type of female leader. She is a professional wrestler, a diva if you will, and a penthouse model. She also has a rivalry with Gwen McQueen.
After the Rangers entered The Dark Galaxy , the Punishment Sisters were not seen nor mentioned ever again.
Delvara was portrayed by five-time TNA knockout Angelina Love (real name: Lauren Williams )
Ad blocker interference detected!
Wikia is a free-to-use site that makes money from advertising. We have a modified experience for viewers using ad blockers

Wikia is not accessible if you've made further modifications. Remove the custom ad blocker rule(s) and the page will load as expected.