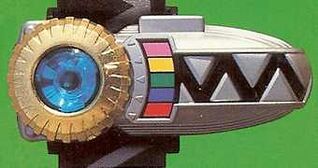 The GingaBraces are morphing devices the 5 core Gingamen must use in order to transform for battle. The braces usually appear on the team's left wrist of their left arm.
Transformation Difference
Edit
In Gingaman, the Gingamen shout out "Ginga Tensei!"
In Power Rangers Lost Galaxy, the Rangers shout out "Go Galactic!"
Ad blocker interference detected!
Wikia is a free-to-use site that makes money from advertising. We have a modified experience for viewers using ad blockers

Wikia is not accessible if you've made further modifications. Remove the custom ad blocker rule(s) and the page will load as expected.