Hilary Shepard Turner
is an actress previously known for playing Divatox in
Power Rangers: Turbo
and its feature film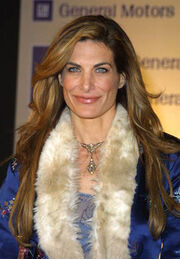 Turbo: A Power Rangers Movie
. she even repraised that role in
Power Rangers in Space
, in favor of other villains of the 6-year MMPR-Zordon era joining.
She is billed as either Hilary Shepard and/or Hilary Shapiro.
Filmography
Edit
For filmography credits, go to Hilary Shepard Turner at the Internet Movie Database.
Trivia and Personal Life
Edit
Shepard was born in New York City, New York. In the late 1980s, Shepard was a lead singer and percussionist in the short-lived all-girl group American Girls.[1]
When that group ended, she moved into acting. Appearing in numerous motion picture and television series, Shepard is best known for playing the character of Divatox who was an evil pirate queen whose goal was to rule the world in the children's series Power Rangers Turbo, as well as two roles on Star Trek: Deep Space Nine: the Benzite ensign Hoya and Lauren, one of the genetically enhanced humans.
She played Zena in the film Scanner Cop.
Shepard and actress Daryl Hannah co-created two board games, "Love It or Hate It" and "LIEbrary,"[1][2] the latter having been previewed by Hannah on The Ellen DeGeneres Show in December 2005.
She lives with a husband and two daughters in Los Angeles, California, United States
Ad blocker interference detected!
Wikia is a free-to-use site that makes money from advertising. We have a modified experience for viewers using ad blockers

Wikia is not accessible if you've made further modifications. Remove the custom ad blocker rule(s) and the page will load as expected.