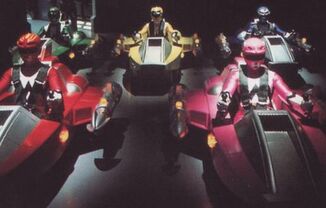 The Jet Jammers are a Power Rangers-exclusive vehicle for Lost Galaxy,Introduced in " Homesick ", the Jammers were created by Alpha 6 and DECA, developed especially for the Galaxy Rangers. The Jet Jammers are small one-man aircrafts, useful for brief or long trips to planet surfaces or certain distances in space.
In the original draft script for "Homesick" the Jet Jammers had the ability to automatically morph the Rangers whenever they jumped into the cockpit.
They are akin to that of the Space Rangers' Galaxy Gliders, but with jet craft-like capability and seats with control sticks on each side of their Jammers.
In the Bandai toyline, the Rangers had their Lights of Orion armor applied to their toy forms as seen in Lost Galaxy's Fall 1999 wave.
The Magna Defender had a Jet Jammer in only the toyline as well.
The Red and Yellow Ranger's Jet Jammers were once damaged in " Journey's End ". Red's was damaged in part 2, while Yellow's was partially damaged in part 3 when Trakeena blasted it in a near distance.
Ad blocker interference detected!
Wikia is a free-to-use site that makes money from advertising. We have a modified experience for viewers using ad blockers

Wikia is not accessible if you've made further modifications. Remove the custom ad blocker rule(s) and the page will load as expected.