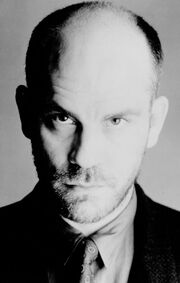 John Gavin Malkovich (born December 9, 1953) is an American actor, producer, director and fashion designer with his label Technobohemian. Over the last 25 years of his career, Malkovich has appeared in more than 70 motion pictures. For his roles in Places in the Heart and In the Line of Fire, he received Academy Award nominations. He has also appeared in critically acclaimed films such as Empire of the Sun, The Killing Fields, Dangerous Liaisons, Of Mice and Men, Con Air, Being John Malkovich, and RED, and has produced numerous films, including Juno and The Perks of Being a Wallflower.
Malkovich was born in Christopher, Illinois. His paternal grandparents were Croatian, natives of Ozalj. His mother was of Scottish and German ancestry. He grew up in Benton, Illinois, in a large house on South Main Street. His father, Daniel Leon Malkovich, was a state conservation director and publisher of Outdoor Illinois, a conservation magazine. His mother, Joe Anne (née Choisser), owned the Benton Evening News as well as Outdoor Illinois.[6][7][8] Malkovich has three younger sisters and an older brother.[9] Malkovich attended Logan Grade School, Webster Junior High, and Benton Consolidated High School. During his high school years, he appeared in various plays and the musical, Carousel. He was also a member of a folk rock musical trio, and was a member of a local summer theater/comedy project in Benton in 1972, where he co-starred in Jean-Claude van Itallie's America Hurrah. Upon graduation from high school, he entered Eastern Illinois University, and then transferred to Illinois State University, where he majored in theatre.
Career HighlightsEdit
Personal life and political viewsEdit
Malkovich was married to actress Glenne Headly from 1982 to 1988. They divorced after Malkovich became involved with Michelle Pfeiffer, his co-star in Dangerous Liaisons.[citation needed] He later met his long-term partner Nicoletta Peyran on the set of The Sheltering Sky where she was the second assistant director, in 1989. They have two children, Amandine and Loewy.[23]
Malkovich is fluent in French, and for nearly 10 years lived and worked in a theater in Southern France. He and his family left France in a dispute over taxes in 2003,[24] and since then he has lived in Cambridge, Massachusetts.[25] In a 2008 interview on the Late Show with David Letterman, Malkovich said he had just spent five weeks that summer living in France.
Malkovich lost millions[26] to Bernard Madoff's Ponzi scheme when it collapsed in 2008.[27]
Malkovich stated in a 2011 interview that "I'm not a political person actually, and I don't have an ideology." He also said that he had not voted since George McGovern lost his presidential run in 1972.[28]
When asked in an interview by the Toronto Star whether it was necessary to have spiritual beliefs to portray a spiritual character, he said "No, I'd say not...I'm an atheist. I wouldn't say I'm without spiritual belief particularly, or rather, specifically. Maybe I'm agnostic, but I'm not quite sure there's some great creator somehow controlling everything and giving us free will. I don't know; it doesn't seem to make a lot of sense to me."[29]
In a 2002 appearance at the Cambridge Union Society, when asked whom he would most like to "fight to the death", Malkovich replied that he would "rather just shoot" journalist Robert Fisk and British MP George Galloway.[30] Both Fisk and Galloway reacted with outrage.
Filmography CreditsEdit
External linksEdit
Ad blocker interference detected!
Wikia is a free-to-use site that makes money from advertising. We have a modified experience for viewers using ad blockers

Wikia is not accessible if you've made further modifications. Remove the custom ad blocker rule(s) and the page will load as expected.