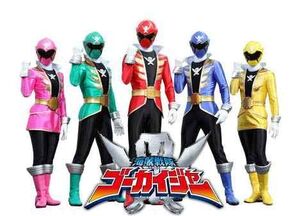 Kaizoku Sentai Gokaiger (海賊戦隊ゴーカイジャー Kaizoku Sentai Gōkaija) is the title of Toei Company's thirty-fifth entry in its long-running Super Sentai Series of Japanese tokusatsu television series following Tensou Sentai Goseiger. It premiered on TV Asahi on February 13, 2011, joining Kamen Rider OOO and then Kamen Rider Fourze as a program featured in TV Asahi's Super Hero Time programming block. The catchphrase for the series is "Let's put on a show!" (派手に行くぜっ! Hade ni ikuze!?).
On July 30, 2010, Toei applied for trademarks on the title Kaizoku Sentai Gōkaijā (海賊戦隊ゴーカイジャー?) to be used on various products. The Japan Patent Office approved these trademarks on August 26, 2010.[1]During the Super Sentai VS Theater programming on December 26, 2010, the series was officially announced in a commercial. A Tokyo Dome City event for the premiere, serving as the introduction of the cast and theme song singers to the public, held on January 29 and 30, 2011.[2]
Article Index
Edit
Ad blocker interference detected!
Wikia is a free-to-use site that makes money from advertising. We have a modified experience for viewers using ad blockers

Wikia is not accessible if you've made further modifications. Remove the custom ad blocker rule(s) and the page will load as expected.