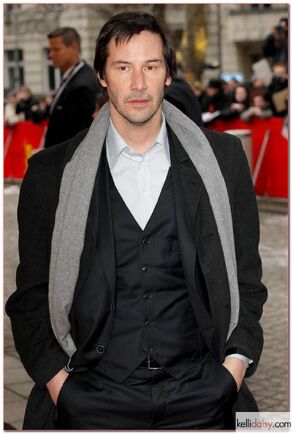 Keanu Charles Reeves ( /keɪˈɑːnuː/ kay-AH-noo; born September 2, 1964)[1]is a Canadian film actor. Reeves is known for his roles in Bill & Ted's Excellent Adventure as well as Speed, Point Break and the science fiction-action trilogy The Matrix. He has worked under major directors, such as Stephen Frears (in the 1988 period drama Dangerous Liaisons); Gus Van Sant (in the 1991 independent film My Own Private Idaho); and Bernardo Bertolucci (in the 1993 film Little Buddha). Referring to his 1991 film releases, The New York Times' critic, Janet Maslin, praised Reeves' versatility, saying that he "displays considerable discipline and range. He moves easily between the buttoned-down demeanor that suits a police procedural story and the loose-jointed manner of his comic roles."[2] A repeated theme in roles he has portrayed is that of saving the world, including the characters of Ted Logan, Buddha, Neo, Johnny Mnemonic, John Constantine and Klaatu.
In addition to his film roles, Reeves has also performed in theatre. His performance in the title role in a Manitoba Theatre Centre production of Hamlet was praised by Roger Lewis, the Sunday Times, who declared Reeves "… one of the top three Hamlets I have seen, for a simple reason: he is Hamlet."[2]
On January 31, 2005, Reeves received a star on the Hollywood Walk of Fame.
Reeves began his acting career at the age of nine, appearing in a theatre production of Damn Yankees. At 15, he played Mercutio in a stage production of Romeo and Juliet at the Leah Posluns Theatre. Reeves made his screen acting debut in a CBC Television comedy series entitled Hangin' In. Throughout the early 1980s, he appeared in commercials (including one for Coca-Cola), short films including the NFB drama One Step Away[12] and stage work such as Brad Fraser's cult hit Wolfboy in Toronto. In 1984, he was a correspondent for the Canadian Broadcasting Corporation TV youth program Going Great.[13]
Reeves' first studio movie appearance was in the Rob Lowe ice hockey film Youngblood, in which he played a Québécois goalie. Shortly after the movie's release, Reeves drove to Los Angeles in his 1969 Volvo. His ex-stepfather Paul Aaron, a stage and television director, had convinced Erwin Stoff to be Reeves' manager and agent before he even arrived in Los Angeles. Stoff has remained Reeves' manager, and has co-produced many of his films. After a few minor roles, Reeves received a more sizable role in the 1986 drama film River's Edge, which depicted how a murder affected a group of teens. Following this film's critical success, he spent the late 1980s appearing in a number of movies aimed at teenage audiences, including Permanent Record, and the unexpectedly successful 1989 comedy, Bill & Ted's Excellent Adventure, which, along with its 1991 sequel, Bill & Ted's Bogus Journey, typecast Reeves as a spaced-out teen. Much of his portrayal in the press and much of the response to his acting in the early 1990s still mentioned his portrayal of the airheaded Ted.
During the early 1990s, Reeves started to break out of his teen-film period. He appeared in high-budget action films like Point Break, for which he won MTV's "Most Desirable Male" award in 1992. He was also involved in various lower-budget independent films, including the well-received 1991 film, My Own Private Idaho with his close friend, the late River Phoenix. In 1994, Reeves' career reached a new high as a result of his starring role in the action film Speed. His casting in the film was controversial since, except for Point Break, he was primarily known for comedies and indie dramas. He had never been the sole headliner on a film. The summer action film had a fairly large budget and was helmed by novice cinematographer-turned-director Jan de Bont. The unexpected international success of the film made Reeves and co-star Sandra Bullock into A-List stars.
Reeves' career choices after Speed were eclectic: despite his successes, Reeves continued to accept supporting roles and appear in experimental films. He scored a hit with a romantic lead role in A Walk in the Clouds. He made news by refusing to take part in Speed 2: Cruise Control – despite the offered $11 million paycheck, which would have been his largest to date – in favour of touring with his band and playing the title role in a 1995 Manitoba Theatre Centre production of Hamlet in Winnipeg, Manitoba.[14] Of his performance, Roger Lewis, the Sunday Times theatre critic, wrote, "He quite embodied the innocence, the splendid fury, the animal grace of the leaps and bounds, the emotional violence, that form the Prince of Denmark… He is one of the top three Hamlets I have seen, for a simple reason: he is Hamlet." Reeves promoting The Day the Earth Stood Still in Mexico in 2008.Reeves' other choices after A Walk in the Clouds, however, failed with critics and audiences. Big-budget films such as the sci-fi action film Johnny Mnemonic and the action-thriller Chain Reaction were critically panned and failed at the box office, while indie films like Feeling Minnesota were also critical failures. Reeves finally started to climb out of his career low after starring in the horror/drama The Devil's Advocate alongside Al Pacino and Charlize Theron. Reeves took a paycut of $1 million for The Devil's Advocate so that Pacino would be cast, and later took a 90% paycut for the less successful The Replacements to guarantee the casting of Gene Hackman.[16] The Devil's Advocate did well at the box office, received good reviews, and proved that Reeves could play a grown-up with a career, although many critics felt that his poor performance detracted from an otherwise enjoyable movie. The 1999 science fiction-action hit The Matrix, a film in which Reeves had a starring role, was a box office success and attracted positive reviews.[16]
In between the first Matrix film and its sequels, Reeves received positive reviews for his portrayal of an abusive husband in The Gift. Aside from The Gift, Reeves appeared in several films that received mostly negative reviews and unimpressive box office grosses, including The Watcher, Sweet November and The Replacements. However, the two Matrix sequels, The Matrix Reloaded and The Matrix Revolutions, along with Something's Gotta Give and the 2005 horror-action film, Constantine, proved to be box office successes and brought Reeves back into the public spotlight.
His appearance in the 2006 film, A Scanner Darkly, based on the dystopian science fiction novel by Philip K. Dick, received favorable reviews, but The Lake House, his romantic outing with Sandra Bullock, did not do well at the box office. He went on to play the lead character in two 2008 films, Street Kings and The Day the Earth Stood Still. In February 2009 The Private Life of Pippa Lee was presented at Berlinale.[17]
Reeves started filming the surrealist romantic comedy Henry's Crime in December 2009, with filming wrapped up in early 2010.
In January 2009, it was revealed that Reeves will star in the live-action film adaptation of the anime series Cowboy Bebop, initially slated for release in 2011. Due to budgeting problems, the script was sent for a rewrite, and the project's status is currently unknown.
Other upcoming projects include the samurai film 47 Ronin, slated for release in late 2013, and Man of Tai Chi, which will also be Reeves' directorial debut.
Also lined up are the science-fiction space drama Passengers, written by Jon Spaihts,Chef – story by Reeves and written by Steven Knight, and a modern retelling of the Robert Louis Stevenson classic Strange Case of Dr Jekyll and Mr Hyde, scripted by Justin Haythe and titled Jekyll. Nicolas Winding Refn was in negotiations to direct but was eventually replaced by Dennis Iliadis and the film taken up by Universal Pictures.[21]
In April 2011, Reeves confirmed that a third installment of the Bill & Ted movie series was underway.
Personal life and other interests
Edit
[3][4]Reeves' star on the Hollywood Walk of FameFor nearly a decade following his initial rise to stardom, Reeves preferred to live in rental houses and hotels. He was a long-term resident of the Chateau Marmont. Reeves bought his first house in the Hollywood Hills of Los Angeles around 2003. He also has an apartment on Central Park West in New York City.
He is a U.S. citizen through his American father, and also holds Canadian citizenship by naturalization; he grew up as a Canadian and identifies as such. Due to April 2003 changes in the law, he is entitled to British citizenship through his English mother. Reeves has never married In December 1999, his girlfriend, Jennifer Syme, gave birth in her eighth month of pregnancy to a stillborn daughter, Ava Archer Syme-Reeves. Syme died in 2001, the sole passenger in an automobile wreck.[5] Reeves, who had to begin shooting back-to-back Matrix sequels during the subsequent spring, was seeking "peace and time to deal with this," said his buddy Bret Domrose, who played guitar in Reeves's alternative rock band Dogstar.[25]
Reeves was sued unsuccessfully in 2008 in Los Angeles Superior Court for $711,974[28] by paparazzo Alison Silva, for allegedly hitting and injuring him with his Porsche after visiting a relative at a Los Angeles medical facility.[29][30] The paparazzo's lawsuit took a year and a half to make it to trial, during which time Silva continued to attack Reeves and demand payment. At the trial, all 12 jurors rejected the suit needing only an hour of deliberation to reach their verdict. With the lawsuit rejected, Reeves was cleared of all the charges.[31]
Contrary to popular impression, Reeves is not Buddhist or an atheist, despite being frequently listed as either.
He has claimed to be non-religious (which some sites interpreted to mean he was an atheist), but to have an intense interest in Buddhism. In 1997, he said, "Sure I believe in God and the Devil but they don't have to have pitchforks and a long white beard."
His most recent comments on the subject of religion were in 2005, in which he stated: "I think [the matter of religion is] personal and private. I like the flesh and blood aspect like I said earlier."
Sad keanu (2010)Edit
In 2010, photos posted on Reddit of a sad-looking Keanu Reeves eating a sandwich while alone led to the spread of the "Keanu is Sad/Sad Keanu" Internet meme and the declaration of June 15 as "Cheer-up Keanu Day" by a Facebook fanpage
In 2011, Keanu wrote and published the "grown-up picture book" Ode to Happiness, with illustrations by Alexandra Grant.
He had started work on the book prior to the Sad Keanu meme, and appearance of parody was but coincidental.
Reeves played bass guitar in the grunge band Dogstar during the 1990s. In the 2000s, he performed with the band Becky.
FilmographyEdit
Further reading
Edit
"Keanu Reeves Articles & Interviews Archive, 1986 – 2012". Retrieved October 2, 2012.
"Pondering the mysterious Keanu Reeves". CNN. November 5, 2003. Archived from the original on April 30, 2008. Retrieved May 10, 2008.
"Seven magazine interview with Keanu Reeves". Seven magazine. Retrieved May 10, 2008.
Bystedt, Karen Hardy (September 1988). The New Breed: Actors Coming of Age. Henry Holt and Company. ISBN 978-0-8050-0774-9.
Chin, Ong Song (May 15, 2003). "A Man of Many Faces". Straits Times (Singapore).
Fleming, Michael (April 2006). "Playboy Interview: Keanu Reeves". Playboy: 49–52, 140–141.
Howell, Peter (May 4, 2003). "Reeves Reloaded". Toronto Star.
Makela, Bob (August 5, 2000). "Keanu Reeves: All the right moves". USA Weekend. Retrieved May 10, 2008.
Roman, Shari (February 1, 1988). "Keanu Reeves – Hawaiian Punk". Details.
Shnayerson, Michael (August 1995). "The Wild One". Vanity Fair.
External linksEdit
Ad blocker interference detected!
Wikia is a free-to-use site that makes money from advertising. We have a modified experience for viewers using ad blockers

Wikia is not accessible if you've made further modifications. Remove the custom ad blocker rule(s) and the page will load as expected.