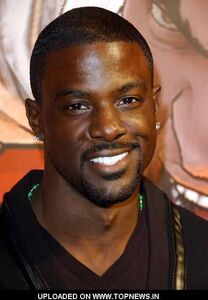 Lance Darnell Gross (born July 8, 1981)s a NAACP Image Award-winning American actor. He is set to appear in Power Rangers LG: Vanguard , a fan-film reboot of the Power Rangers LG film series as Browne Jones (the second Green Galaxy Ranger) in the absence of Charlie Murphy , who played it in the two movies.
Gross is currently portraying Calvin Payne in the TBS sitcom Tyler Perry's House of Payne, and other Tyler Perry productions such as the Meet The Browns film. He has also been on The Bernie Mac Show as well as Eve. Lance turned down the chance to become a professional track and field athlete in order to pursue his dream of acting.[citation needed] He received a Bachelor of Arts in theater from Howard University and then trained at The Ivanna Chubbuck Studio as well as the Tasha Smith Acting Studio. He has appeared in music videos for R&B stars Rihanna, Mariah Carey, Letoya Luckett, Angela Simmons, Kelis, Mary J. Blige, Tyra B., Kirk Franklin andSolange Knowles.[2] He co-starred in 2010's Our Family Wedding alongside Forest Whitaker,Carlos Mencia, America Ferrera and Regina King.
Ad blocker interference detected!
Wikia is a free-to-use site that makes money from advertising. We have a modified experience for viewers using ad blockers

Wikia is not accessible if you've made further modifications. Remove the custom ad blocker rule(s) and the page will load as expected.