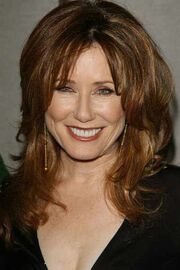 Mary Eileen McDonnell (born April 28, 1952) is an American film, stage, and television actress. She received Academy Award nominations for her roles as Stands With A Fist in Dances with Wolves and Mary-Alice Culhane in Passion Fish, she is also well known for her performance as President Laura Roslin in Battlestar Galactica, the President's wife in Independence Day, and for her starring role in Donnie Darko as the title character's mother.
McDonnell had a small role in Power Rangers LG: The Rise of Trakeena , as Dimitra, a ritualous Guardianess who serves in The Hall of Legends.
After graduating from the State University of New York at Fredonia, she attended drama school and joined the East Coast's prestigious Long Wharf Theatre Company, with which she worked for over 20 years.
Filmography
Edit
See Also: http://en.wikipedia.org/wiki/Mary_McDonnell#Filmography
External Links
Edit
Ad blocker interference detected!
Wikia is a free-to-use site that makes money from advertising. We have a modified experience for viewers using ad blockers

Wikia is not accessible if you've made further modifications. Remove the custom ad blocker rule(s) and the page will load as expected.