Jinxer manipulates Captain Mitchell into providing Olympius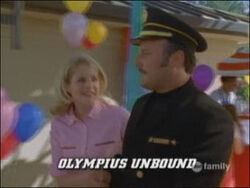 with enough energy to destroy the Rangers after he escapes the underworld. When Ms. Fairweather interrupts the power feed, the star power is destroyed, allowing the Rangers to defeat the demon prince.
Ad blocker interference detected!
Wikia is a free-to-use site that makes money from advertising. We have a modified experience for viewers using ad blockers

Wikia is not accessible if you've made further modifications. Remove the custom ad blocker rule(s) and the page will load as expected.