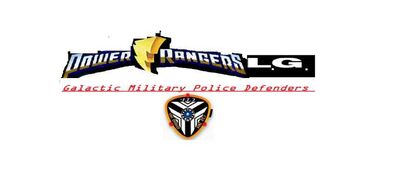 Power Rangers LG: Galactic Military Police Defenders is a long-running fanfiction continuity of the Power Rangers franchise. This continuity of Power Rangers lasted more than 2 years. This fanfic series went on since 1999, which was during the run of 7th season of Power Rangers TV series, Power Rangers: Lost Galaxy . This continuity is created by longtime Power Rangers fan Anthony Marsh, Jr .
Power Rangers Lost Galaxy: Galactic Military Police Defenders

Series Type:

Non-Canon/Fan-fiction

Series:

Power Rangers

Series Debut Year:

1999

Series End Year:

2012

Created by:
In 2012, following the release of Power Rangers Lost Galaxy: The Rise of Trakeena , Marsh's fanfic continuity of Power Rangers will cease after a long-running 13-year run.
Production
Edit
Series Inspiration and DevelopmentEdit
In speculation, this series is not related to the Power Rangers TV show, not even a season in the show. Galactic Military Police Defenders' Power Rangers counterpart is Power Rangers: Lost Galaxy , which was based on the 1998 Super Sentai series Seijuu Sentai Gingaman , the 22nd entry of Tokusatsu's Super Sentai series. Some portions of this continuity spawn elements from 3 other Sentai shows the 3 other Post-Zordon/MMPR seasons of Power Rangers were once based- Power Rangers: Lightspeed Rescue (adapted from 1999's Kyuukyu Sentai GoGo-V ), Power Rangers: Time Force (adapted from 2000's Mirai Sentai Timeranger ) and the series' 10th Anniversary season Power Rangers: Wild Force (adapted from 2001's Hyakujuu Sentai Gaoranger , the 25th Anniversary Sentai). However, in 2011, it was announced that, before Saban would begin adapting a 20th Season of Power Rangers, Marsh has plans for his fanfic continuity of the franchise's fanbase to include monster costumes, zords, weapons, Ranger costumes and footage from the 2010 Super Sentai series Tensou Sentai Goseiger .
During the rest of the 2000s, after Wild Force ended the 10-year run of the Power Rangers by MMPR Productions, when Disney was still holding the show's rights until 2010, Marsh's continuity of Power Rangers did not sport any other Sentai shows' sources the following Disney- Power Rangers seasons adapted (like Ninja Storm, based on 2002's Hurricaneger, and Dino Thunder, based on 2003's Abaranger). During those times, Marsh had his series baring mostly 100% original fan-made material. The Rangers' Lost Galaxy costumes have been used for Marsh's "Power Rangers" for the past ten years and it will still be used today. While the suits from Lost Galaxy are still being used, there have been some major suit modifications throughout the past 10 years.
Characters
Edit
Power Rangers- the Galactic Military Police DefendersEdit
Ranger-Like AlliesEdit
Features popular Ranger-like allies from past seasons and fanmade allies appearing in this continuity.
From the actual seriesEdit
Almagams of actual Villains/Character CustomsEdit
Fan-Made VillainsEdit
Villains who are fan-made, that only appear, exclusively for this continuity of Power Rangers.
Jet Rocket , a Power Rangers-Transformers crossover villain.
Neo-Screecher , a Power Rangers-Transformers crossover villain.
Bridewitch , a almagam of Elvira, Mistress of the Dark but with a dark blue dress.
Destroyer Dom , NOT the one from SD Gundam Force. A different one who is combination of Sandman/Flint Marko in Spider-Man 3 and Megatron's jet mode/robot form from the 2007 Transformers live-action film.
Negatron , NOT the Nighlok monster in the Power Rangers Samurai episode "Sticks and Stones", the Negatron Marsh created during the 2006-2008 Power Rangers: The Last Stand faux film development stages. He is akin to Dr. Doom from the 2005 Fantastic 4 movie, played by Julian McMahon, but he wears a black trenchcoat.
Dark Crane , a darker version of Wendy Jane O'Hara, an older type. She possesses the spirit of a satanic phoenix and her powers are uncontrolable. She is akin to Jean Grey's second form Dark Phoenix in the X-Men comics, most notably, 2006's X-Men: The Last Stand, baring the same fashion statement.
Onyx Tavern AliensEdit
For list of monsters from the actual Power Rangers TV series featured in this continuity, see also: Monsters featured in Power Rangers LG: Galactic Military Police Defenders .
For list of weapons and vehicles from the actual Power Rangers TV series featured in this continuity, see also: Arsenal in Power Rangers LG: Galactic Military Police Defenders .
Galactabeasts (1999-2000, 2009-present)Edit
Rail Rescues/Rescue Zords (2000-2001, 2011-present)Edit
Time Jets/Flyers (2001-2009)Edit
Isis WildzordsEdit
Delta Squad MegazordEdit
S.W.A.T. MegazordEdit
Ad blocker interference detected!
Wikia is a free-to-use site that makes money from advertising. We have a modified experience for viewers using ad blockers

Wikia is not accessible if you've made further modifications. Remove the custom ad blocker rule(s) and the page will load as expected.