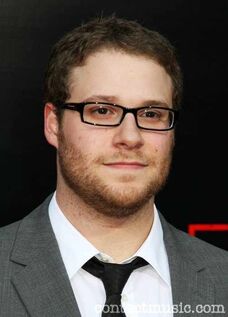 Seth Rogen (pronounced /ˈroʊgɪn/; born April 15, 1982) is a Canadian comedian, screenwriter, voice artist, film producer and actor. Rogen is being cast to play Bulk in Power Rangers LG: Galactic Underground , a fan-film reboot of Power Rangers: Lost Galaxy .
Rogen began his career doing stand-up comedy during his teens, winning the Vancouver Amateur Comedy Contest at the age of 16. While still living in his native Vancouver, he landed a small part in Freaks and Geeks. Shortly after Rogen moved to Los Angeles for his role, Freaks and Geeks was canceled after one season due to poor ratings. He then got a part on the equally short-lived Undeclared, which also hired him as a staff writer.
After landing a job as a staff writer on the final season of Da Ali G Show, for which Rogen and the other writers received an Emmy nomination, he was guided by film producer Judd Apatow toward a film career. Rogen was cast in a major supporting role and credited as a co-producer in Apatow's directorial debut, The 40-Year-Old Virgin. After receiving critical praise for that performance, Universal Pictures agreed to cast him as the lead in Apatow's directorial feature films Knocked Up and Funny People. Rogen and his comedy partner Evan Goldberg co-wrote the comedy films Superbad and Pineapple Express. Rogen has done voice work for the films Horton Hears a Who!, Kung Fu Panda, Monsters vs. Aliens, and Paul. He became engaged to fellow screenwriter Lauren Miller in 2010.
More Info
Edit
Ad blocker interference detected!
Wikia is a free-to-use site that makes money from advertising. We have a modified experience for viewers using ad blockers

Wikia is not accessible if you've made further modifications. Remove the custom ad blocker rule(s) and the page will load as expected.