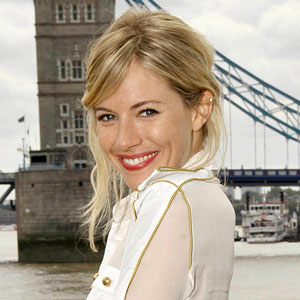 Sienna Rose Miller (born 28 December 1981) is an English actress, model, and fashion designer, best known for her roles in Layer Cake, Alfie, Factory Girl, The Edge of Love and G.I. Joe: The Rise of Cobra.
Sienna was confirmed to play Gwen McQueen in the Power Rangers LG sequel, in the absence of Shannon Spruill , who played her in the first film, but unfortunately, the sequel was canceled and Miller was let so since the series is currently being rebooted..
Filmography
Edit
The Trials of Cate McCullough (in production) Lacey 2012Just Like a Woman (pre-production)
2011Two Jacks (filming)

Diana 2012Yellow (post-production) Xanne 2011New Year's Eve (post-production)
2010Hippie Hippie Shake (completed)

Louise Ferrier 2009G.I. Joe: The Rise of Cobra Anastasia 'Ana' DeCobray / Baroness 2009Comic Relief 2009 (TV movie) Sophie 2008Looking Over: The Edge of Love (video short) Caitlin Thomas 2008The Edge of Love Caitlin Thomas 2008The Little Fox 2 Darcey (voice) 2008The Mysteries of Pittsburgh Jane Bellwether 2008Camille Camille Foster 2007Stardust Victoria 2007/IInterview Katya 2006Factory Girl Edie Sedgwick 2005Casanova Francesca 2004Alfie Nikki 2004Layer Cake Tammy 2003-2004Keen Eddie (TV series) Fiona Bickerton–Liberté, Egalité, Fraternité (2004) …Fiona Bickerton–Keeping Up Appearances (2004) …Fiona Bickerton–Who Wants to Be in a Club That Would Have Me as a Member? (2004) …Fiona Bickerton–Citizen Cecil (2004) …Fiona Bickerton–Inciting Incident (2004) …Fiona BickertonSee all 13 episodes »2003/IIThe Ride Sara 2002Bedtime (TV series) Stacey–Episode #2.5 (2002) … Stacey–Episode #2.3 (2002) … Stacey–Episode #2.2 (2002) … Stacey–Episode #2.1 (2002) … Stacey 2002The American Embassy (TV series) Babe–Long Live the King (2002) … Babe (as Sienna Rose Miller) 2002High Speed Savannah 2001South Kensington Sharon (as Sienna Rose)
Ad blocker interference detected!
Wikia is a free-to-use site that makes money from advertising. We have a modified experience for viewers using ad blockers

Wikia is not accessible if you've made further modifications. Remove the custom ad blocker rule(s) and the page will load as expected.