Stephen Rannazzisi (born July 4, 1978) is an American actor who has appeared in Paul Blart: Mall Cop and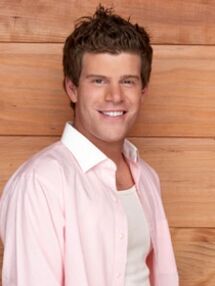 currently is featured in the FX television show The League. Rannazzisi did appear in Power Rangers LG: The Rise of Trakeena as Decepticon pretender Jet Rocket (a Power Rangers-Transformers crossover character created by Anthony Marsh, Jr ), until on Halloween day of 2010, the filmmakers caught actor Stephen Rannazzisi (Jet Rocket/Skobo Johnson) using the camera (that was obviously used for the movie) to film a very small somewhat Power Ranger porno-tape, which featured a female Neo-Viper (obviously stunt actress Bridget Riley ) and a male Neo-Viper (Chris Daniels, the Red Ranger's suit actor) having sex in a hotel room where the filmmakers were camping in in order to monitor the film's progress. Moore and CEO Brad Grey contacted director Bryan Spicer and producer Lorenzo di Bonaventura and the two decided to put Rannazzisi on a 8-day suspension restriction and the actor is suspended for 8 days.
Actually, when the filmmakers were filming the "Grunchor Unleashed!" segment, this has come to conclusion that the studio has released Rannazzisi from the film for the rest of production and the Jet Rocket character is officially dropped for the rest of the film midway through, so at this rate, Rannazzisi is fired and the producers made him "quit" the film entirely.
He hails from Smithtown, New York, on Long Island.
He is sometimes credited as "Steve Rannazzisi".
Ad blocker interference detected!
Wikia is a free-to-use site that makes money from advertising. We have a modified experience for viewers using ad blockers

Wikia is not accessible if you've made further modifications. Remove the custom ad blocker rule(s) and the page will load as expected.