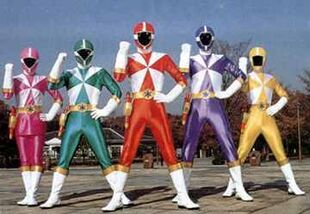 Five members of the Tatsumi Family are the five main heroes of the series.
Team Premise
Edit
From a long line of "machi-bikeshi" (fire fighters of Edo, the capital of the Tokuguawa Shogunate), the Tatsumi family are portrayed providing emergency and rescue services in Tokyo.
The Tatsumi Family
Edit
Main Article: Matoi
Main Article: Nagare
Main Article: Shou
Main Article: Daimon
Main Article: Matsuri
Main Article: Mondo
Main Article: Ritsuko
Ad blocker interference detected!
Wikia is a free-to-use site that makes money from advertising. We have a modified experience for viewers using ad blockers

Wikia is not accessible if you've made further modifications. Remove the custom ad blocker rule(s) and the page will load as expected.