The Scorpion Screamers
was a rock band formed by
Anthony Marsh, Jr
, which specializes in mostly covering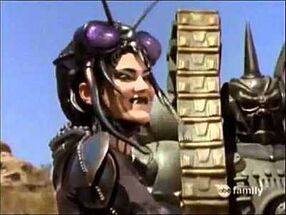 popular songs in the alternative metal genre. His band included some of co-stars (former, but current) from his Power Rangers: Lost Galaxy movie as its members, with
Amy Miller
-Rolle (ex-Trakeena) as lead singer,
Steven Rannazzisi
(Jet Rocket) doing the drums,
Wes Bentley
(Waspsfly) as the righthand guitarist,
Chris Klein
(ex-Villamax XXIII) as lefthand guitarist, and Ryan Reynolds (Chris Donner/Shadow Ranger) as the band's background vocalist.
Following the poor test screening reception for Power Rangers Lost Galaxy: The Rise of Trakeena , the band has split, with 3 of the film's actors, who played the villains, fired.
Ad blocker interference detected!
Wikia is a free-to-use site that makes money from advertising. We have a modified experience for viewers using ad blockers

Wikia is not accessible if you've made further modifications. Remove the custom ad blocker rule(s) and the page will load as expected.